Timber Look Decorative Concrete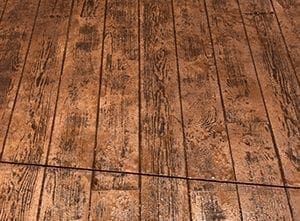 Timber Look Decorative Concrete is one of the latest trends of this year offering a robust super long lasting foundation using concrete, and then stamping the freshly laid concrete with timber patterns and using skilled concreters to add colour giving it that timber deck look and feel while saving tree's.
If you love timber, but want something that will stand the test of time without the maintenance involved that timber requires. Consider working with Brisbane Concrete Services to install your stamped timber looking concrete area's to create a seamless look and feel around your home or for retail and commercial projects.
Many of our customers that have chosen his finish have been over the moon to see the results. You can discuss your project with our team to make sure the timber look decorative concrete finish will work for you, and when your ready to get started we can give you a quote and measure up your job ready for our professional converters to install your new concrete driveway, patio, footpaths or pool surrounds.
Get in touch with us today for a FREE Quote on Plain Concrete in Brisbane… PH: 0404 859 045
Timber Look Decorative Concrete Pricing And Features
The stamped timber look decorative concrete finish is a beautiful choice for Pool Surrounds, Entertainment Area's and Concrete Driveways. Timber Look Concrete can provide a rustic or tropical look and feel to your home, making your property more unique and potentially increasing it's value.
With property prices set to fall, it's a great time to beautify for sale value to ensure you are getting the best price you can for re-sale. If you don't intend on selling your home, then you'll be glad you have chosen Timber Look Decorative Concrete based on the feedback from people who have.
Get a quote on your Timber look Decorative Concrete project and find out why so many people choose Brisbane Concrete Services for there concreting needs.
Beautiful decorative concrete driveways, pool surrounds and more.
Timber Look Concrete Finish Quotes