Stamped Concrete Brisbane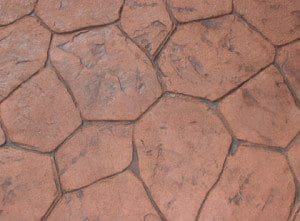 Stamped Concrete Brisbane, it may be a dying art, but Brisbane Concrete Services have been around for long enough and can still provide Stamped Concreting Services so you can have the exact finish you desire.
Stamped Concrete is the art of using a specialised concrete mixture to allow the use of a selection of concrete stamps to create a seamless finish that can be coloured and tinted to acheive the desired result.
Stamped concrete is one of those concrete finishes that is often mistaken as concrete stencil ect…
We do offer all types of concrete resurfacing including but not limited to Stencil Concrete, Coloured Concrete, Epoxy Flooring, Exposed Aggregate and more..
Get in touch with us today for a FREE Quote on Stamped Concrete in Brisbane… PH: 0404 859 045
Stamped Concrete Pricing And Features
Stamped Concrete is really a personal choice when it comes to the design, colours and patterns. Remember it is going to be there for some time and it's important to get it right so your not looking at it everyday thinking you just made it blue instead of red etc… Matching colours to your existing colour theme can make a big difference.
Brisbane Concrete Services can supply you with a colour chart if required or you can simply browse our concrete colour charts and concrete resurfacing pattern charts to find something that meets your requirements and budget.
Pricing for Stamped Concrete really needs to be done after an inspection of the job site, although you can call us and get a rough estimate on the Stamped Concrete project. But no firm quote will be provided until the site inspection has been carried out.
Get a quote on your Stamped Concrete project and find out why so many people choose Brisbane Concrete Services for there concreting needs.
Epoxy Flooring specialists with more than 20 years experience…
Affordable Stamped Concrete Brisbane and Gold Coast