Stenciled Concrete Brisbane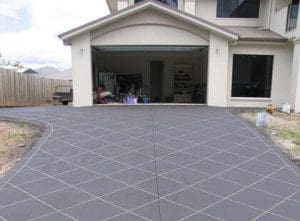 Stenciled Concrete Brisbane, Yes we offer a complete range of stencil concreting and have a reputation for being able to produce just about any desired finish.
Concrete Stencilling or Stencil Concrete can often be mistaken for stamped concrete or the brand of concrete resurfacing products known as Covercrete (covacrete).
The stencil concrete is typically done when the concrete is wet allowing the concrete contractors to create a seamless pattern.
You can choose from a range of concrete stencil patterns and colours by browsing our website to give your property a unique finish or you can choose a standard concrete stencil to keep it a little more sedate.
Click Here to see our concrete stencil range!
Get in touch with us today for a FREE Quote on Stencil Concreting in Brisbane… PH: 0404 859 045