Concrete Patios Brisbane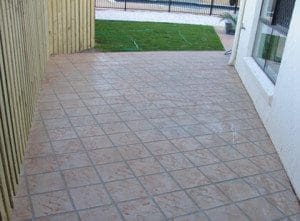 Concrete Patios Brisbane for Entertainment areas are the focal point for Australian families. It's were we enjoy our BBQ time sitting with family and friends during the hotter months. So with that much time spent on the concrete patio, why not fill the space with a nicely formed concrete patio or entertainment area for a few quiet drinks and entertainment.
Our rates are affordable and our services are second to none. We want your job and look forward to letting you know what we can do to create the best concrete patio possible based on your requirements.
Get in touch with us today for a FREE Quote on Concrete Patios and entertainment areas in Brisbane… PH:0404 859 045
Concrete Patios Pricing And Features
Concrete Patios are really a personal choice when it comes to the design, colours and patterns. Remember it is going to be there for some time and it's important to get it right.
Pricing for Concrete Patios really needs to be done after an inspection of the job site, although you can call us and get a rough estimate on the Concrete Patios project. But no firm quote will be provided until the site inspection has been carried out.
Get a quote on your Concrete Patios project and find out why so many people choose Brisbane Concrete Services for there concreting needs.
Concrete Patios specialists with more than 20 years experience…
Affordable Concrete Patios Brisbane and Gold Coast