Plain Concrete Brisbane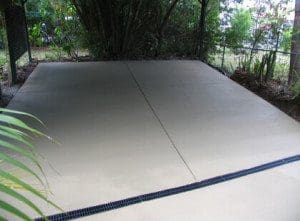 Plain Concrete Brisbane and Ipswich as well as surrounding locations.
Plain concrete is one of the worlds most widely used products. You just have to take a look around to see the amount of plain concrete used in everyday life.
We offer fantastic prices on Plain Concrete Driveways, Patios and Footpaths and can often price match with our competitors as long as there not working for nothing.
A common problem with concrete contractors is using concrete steel mesh that is below the required rating for the job, or some may even build up the soil in the centre of the job to use less concrete and make more money.
If the price is too good to be true, it probably is! You can discuss the project with our concrete contractors to ensure that you can see that we are using the required correct materials everytime.
Get in touch with us today for a FREE Quote on Plain Concrete in Brisbane… PH: 0404 859 045
Plain Concrete Pricing And Features
Plain Concrete is the beginning to all good things. Remember concrete last and it's going to be there for along time so an important thing to get it right.
Brisbane Concrete Services can supply you with a colour chart if required or you can simply browse our concrete colour charts and concrete resurfacing pattern charts to find something that meets your requirements and budget if you would like to add some character to your plain concrete.
Pricing for Plain really needs to be done after an inspection of the job site, although you can call us and get a rough estimate on the Plain Concrete project. But no firm quote will be provided until the site inspection has been carried out.
Get a quote on your Plain Concrete project and find out why so many people choose Brisbane Concrete Services for there concreting needs.
Epoxy Flooring specialists with more than 20 years experience…
Affordable Plain Concrete Brisbane and Gold Coast