Plain Concrete Brisbane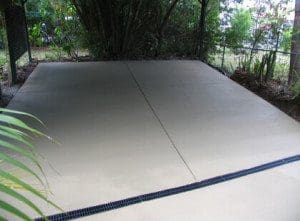 Plain Concrete Brisbane and Ipswich as well as surrounding locations.
Plain concrete is one of the worlds most widely used products. You just have to take a look around to see the amount of plain concrete used in everyday life.
We offer fantastic prices on Plain Concrete Driveways, Patios and Footpaths and can often price match with our competitors as long as there not working for nothing.
A common problem with concrete contractors is using concrete steel mesh that is below the required rating for the job, or some may even build up the soil in the centre of the job to use less concrete and make more money.
If the price is too good to be true, it probably is! You can discuss the project with our concrete contractors to ensure that you can see that we are using the required correct materials everytime.
Get in touch with us today for a FREE Quote on Plain Concrete in Brisbane… PH: 0404 859 045