Concrete Driveways Brisbane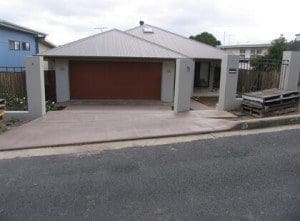 Concrete Driveways Brisbane,  everyone has one so why not make your driveway unique and stylish.
Our dedicated Concrete Driveway crew help you with designing your dream concrete driveway for your home or business.
We have been concreting driveways around Brisbane, Ipswich and the Gold Coast for many years and have a great deal of experience to deliver the best  driveways at competitive prices.
We also provide concrete resurfacing services for your new or existing driveway. If your looking to sell and tidy up your tired looking concrete surface or just wanting to add a bit more character to your home or business, we have solutions and are keen to help.
Concrete Driveways Pricing And Features
Concrete Driveways should be a personal choice when it comes to the design, colour and patterns. Its important to get it right, because its there for life.
Pricing for Concrete Driveways require and onsite visit so we can advise options and provide accurate quoting on your Concrete Driveway project. NO firm quote will be provided until we inspected your request.
Get a quote on your Concrete Driveway project and find out why so many people choose Brisbane Concrete Services for all there concreting needs.
Concrete Driveway specialists with more than 20 years experience…
Affordable Concrete Driveways Brisbane and Gold Coast