Covercrete Covacrete Brisbane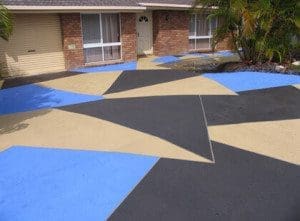 Covercrete Covacrete Brisbane, a complete range of colours to choose from, and you can also mix patterns to get your desired effect.
Covercrete is the way most people spell it, but it is actually called Covacrete. This product from Parchem Construction Supplies allows us to create a beautiful concrete finish using a special concrete mixture, patterns and colours.
You simply choose your design and colours and we can re-create your desired look to industry standards saving you the cost of replacing old and damaged concrete.
If your interested in Covcrete/Covacrete and would like a FREE quote, simply get in touch and chat with our very experienced concrete resurfacing team today!
Get in touch with us today for a FREE Quote on Covercrete Concrete Resurfacing in Brisbane… PH: 0404 859 045
Covercrete Pricing And Features
Covercrete is really a personal choice when it comes to the design, colours and patterns. Its a good idea to try to match your existing colour scheme if possible so you get a seamless finish that blends in with your Roof and Gutter Colours, or maybe your fence colours etc..
Brisbane Concrete Services can supply you with a colour chart if required or you can simply browse our concrete colour charts and concrete resurfacing pattern charts to find something that meets your requirements and budget.
Pricing for Covercrete really needs to be done after an inspection of the job site, although you can call us and get a rough estimate on the Covercrete project. But no firm quote will be provided until the site inspection has been carried out.
Get a quote on your Covercrete project and find out why so many people choose Brisbane Concrete Services for there concreting needs.
Covercrete specialists with more than 20 years experience…
Affordable Covercrete Brisbane and Gold Coast