Exposed Aggregate Brisbane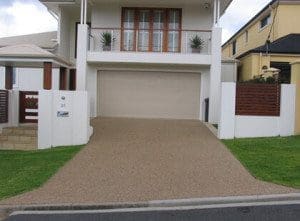 Exposed Aggregate Brisbane and Gold Coast and Ipswich. Best prices and high quality workmanship.
Exposed Aggregate Concrete Driveways are very popular due to the long lasting nature of the product and the beautiful finishes you can achieve simply by choosing a aggregate that matches your existing landscaping and dwelling colours.
When done correctly, an exposed aggregate driveway, patio, footpath or entertaining area will look great, but if it's not done right. Then you take the risk of it looking pretty bad for many years to come.
We have worked with exposed aggregate for more than 30 years and know what makes a good job and what makes a bad job, and the things to avoid to get the best results.
Get in touch with us today for a FREE Quote on Exposed Aggregate Concrete Products & Exposed Aggregate Driveways in Brisbane… PH: 0404 859 045
Exposed Aggregate Pricing And Features
Exposed Aggregate is really a personal choice when it comes to the design, colours and patterns. Remember it is going to be there for some time and it's important to get it right.
Brisbane Concrete Services can supply you with a colour chart if required or you can simply browse our concrete colour charts and concrete resurfacing pattern charts to find something that meets your requirements and budget.
Pricing for Exposed Aggregate really needs to be done after an inspection of the job site, although you can call us and get a rough estimate on the Exposed Aggregate project. But no firm quote will be provided until the site inspection has been carried out.
Get a quote on your Exposed Aggregate project and find out why so many people choose Brisbane Concrete Services for there concreting needs.
Exposed Aggregate specialists with more than 20 years experience…
Affordable Exposed Aggregate Brisbane and Gold Coast